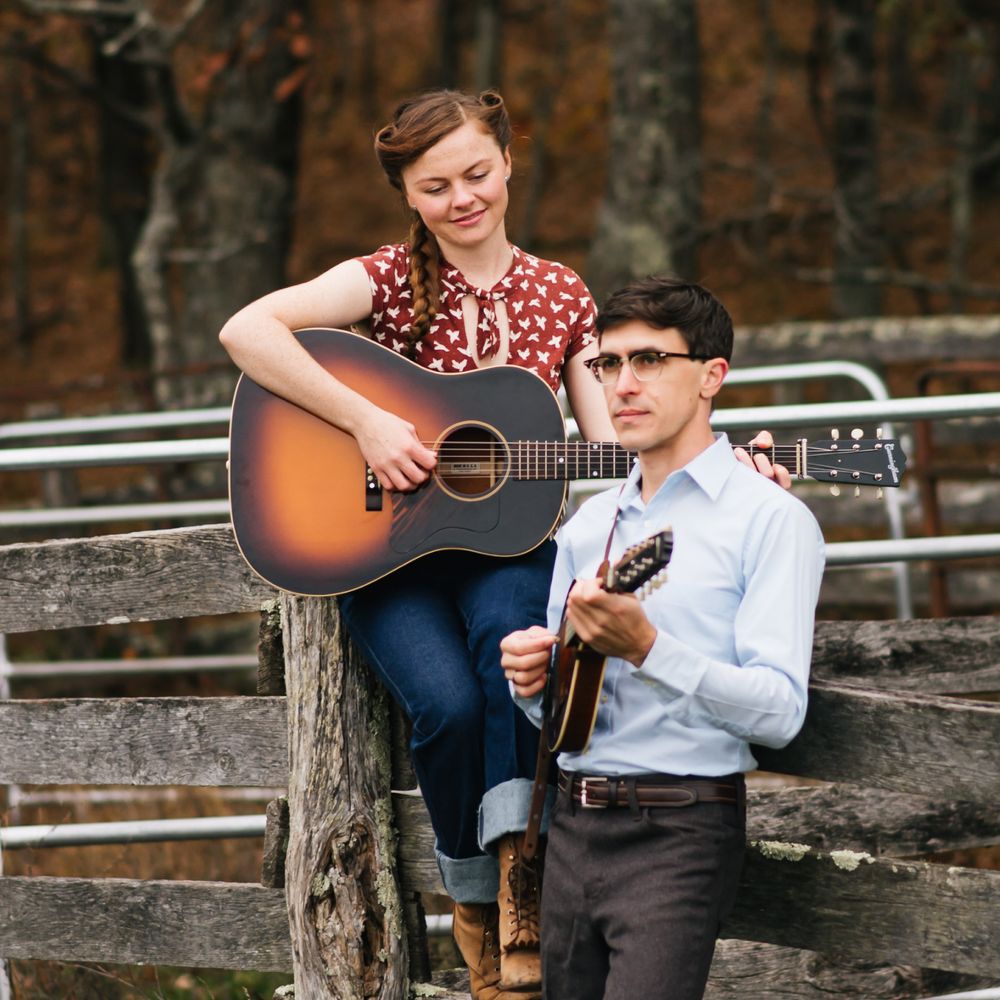 Based in the Blue Ridge Mountains of Southwest Virginia, Ashlee Watkins & Andrew Small have captivated audiences around the globe with their stirring harmonies and hard-hitting old-time sound. Their songs range from heartbreaking country duets to foot stomping breakdowns as the duo moves effortlessly between fiddle, banjo, mandolin, and guitars. Ashlee and Andrew have won many awards from fiddlers conventions throughout the region including first place with their string band The Alum Ridge Boys & Ashlee at the 85th Annual Galax Old Fiddlers' Convention.
As songwriters, Ashlee and Andrew were featured in the 2022 IBMA Songwriter Showcase and won first prize in the 29th Annual MerleFest Chris Austin Songwriting Contest. The duo has been featured on the PBS television show Song Of The Mountains, played on the Cabin Stage at MerleFest, and performed for the inauguration of the 74th Governor of Virginia. In 2021-22, they hosted the 10th season of The Floyd Radio Show and their music is also featured on the soundtracks of The Green Tunnel podcast and the PBS documentary Rock Castle Home.
Ashlee Watkins
Having grown up in a musical family in New South Wales, Australia, Ashlee Watkins is a multi-instrumentalist, singer, and songwriter whose powerfully unadorned vocals exhibit a refreshing directness of expression reminiscent of Maybelle Carter, Molly O'Day, and Hazel Dickens. She has been awarded a number of blue ribbons from fiddlers' conventions around the Southeast for her folk singing and old-time banjo and guitar playing, and in 2021, her string band The Alum Ridge Boys & Ashlee won first place at the 85th Annual Old Fiddlers' Convention in Galax, VA. In 2022, she completed a Virginia Folklife Apprenticeship with Floyd County master musician Mac Traynham. Ashlee also performs with Larry Sigmon and string bands including the Mustard Cutters and Nobody's Business.
Andrew Small
Andrew Small is an award-winning multi-instrumentalist, singer, songwriter, and composer who currently serves as Artist-In-Residence for The Crooked Road - Virginia's Heritage Music Trail. Originally from Eastern North Carolina, Andrew holds a master's degree in music performance from Yale University and has performed around the world with artists including Sierra Hull, Mandolin Orange, and the North Carolina Symphony. He performs in the house band for the PBS television show Farm and Fun Time and tours internationally as bassist for Bill and the Belles. A former Bluegrass Mandolin Champion of Australia, Andrew was awarded first prize in the bluegrass category at the 29th Annual MerleFest Chris Austin Songwriting Contest. In 2022, he completed a Virginia Folklife Apprenticeship with National Heritage Award-winning fiddler Eddie Bond of Fries, VA. Andrew is a member of the teaching faculty for the Bluegrass, Old-Time, and Roots Music program at East Tennessee State University.